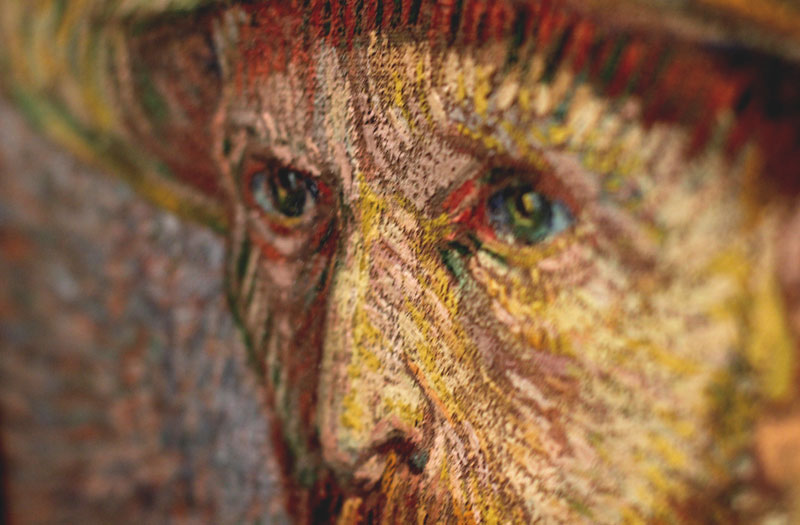 As far as I'm aware, Vincent van Gogh never shared any explicit advice about writing. (If he did and you know of it, I'd be delighted to hear it.) What van Gogh did was draw and paint. A lot. He also wrote very many letters. One of these, to his brother Theo in July 1882, contains this engaging thought:
One must work long and hard to arrive at the truthful. What I want and set as my goal is damned difficult and yet I don't believe I'm aiming too high. I want to make drawings that move some people … In short, I want to reach the point where people say of my work, that man feels deeply and that man feels subtly.
Whether or not you believe van Gogh achieved what he sought will depend on your perspective on his art. Regardless of this, his words to Theo hold wisdom for writers and creators of all kinds.
What is clear in these brief lines is the entwined importance of truth and diligence. The language in this letter shows that Vincent van Gogh knew how challenging being guided by truthfulness can be, and yet it is through devotion to truth, despite the discomfort it can bring, that we may create works that embody those qualities of deep and subtle feeling.
As artists, writers and makers, truth offers itself to us in a range of ways. The most vital of these concerns our honesty with ourselves. It is my belief that we need to know our own truth and affirm the integrity of our intentions in order to create works of genuine meaning. Only then can we engage in authentic communication with our audience.
This is not to say that everything we make must be based on empirical fact or that we ought not invent or contrive. Bringing the vibrant sparks of imagination to life is, after all, the task of the artist. Still, there must be truth in it.
The sort of truth that I—and perhaps also van Gogh—speak of here goes beyond simple veracity. It has an emotional or even a spiritual essence that resonates within us despite its guise. We know this truth, intrinsically and viscerally, when see, hear or feel it in art. In its presence, we perceive, consciously or not, that the person who crafted its expression did so with dedication and an awareness of reaching towards something ineffable.
That's the kind of art I want to experience.
It's the kind I aspire to make.
The search for this truth and our desire to proclaim it must be at the heart of our creations. We need to become attuned to it in the themes we choose, the ideas we explore and the words we use. This means we must be willing to become more aware of those moments when we feel our integrity waver, whether through fear or uncertainty or doubts about our ability. It is in such moments that we decide what kind of artists we are.
Later in the same letter to Theo, Vincent van Gogh acknowledges that art "demands persistent work, in spite of everything, and unceasing observation". He goes on:
By persistent I mean in the first place continued labour, but also not abandoning your approach because of what someone else says. I have hopes, brother, that in a few years, and even now already, you'll gradually see things by me that will give you some recompense for your sacrifices.
I hope that as writers and creators we can commit to our work with honesty and courage, not varying our vision due to the opinions of others. I hope we find recompense in our efforts, yet even more, I hope that what we do moves people in some way by offering them a glimpse of what we know to be true.
A damned difficult goal it may be to pursue the truthful. But it is a wholly worthy one too.
Now it's your turn…
What are your views on art and truth? When have you faced a moment that challenged your integrity? What do you do as a writer to explore, express and experience truth?